Change in the arena translates into change at the office.
At Stand InBalance, we combine our knowledge of human behavior and organizational principles with our understanding of equines to facilitate human learning and development. Our cutting-edge, experiential programs use the unique abilities of horses and their natural herd dynamics to take leaders and teams to the next level.
Watch a short video about our programs for Teams & Organizations
Through involvement in carefully devised activities, individuals learn about themselves as they experience and see their strengths and challenges from a new perspective. Using skilled facilitation, we help participants illuminate issues they may have denied or resisted and work with them so they can develop more effective behaviors and leverage their strengths.
We offer a fast-track to change – one you'll never see happen in a typical meeting setting.
Outcomes and Results of Equine Assisted Learning Include:
Stronger Leadership & Improved Teamwork
Amplified Productivity
Increased Emotional Intelligence
Effective Communication & Listening
Boost Trust & Commitment
Enhanced Relational Skills & Ability to Positively Influence Others
Greater Creativity in Problem Solving
Personal Responsibility & Conflict Resolution Skills
Elevated Morale & Accountability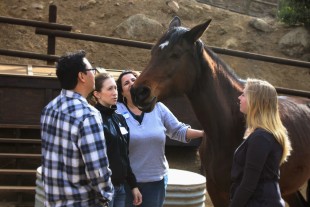 Experiential learning has been shown to be more effective than passive learning. Interaction with horses provides powerful learning experiences because the interactive experience changes and evolves — just like the workplace it is a changing environment. And, have we mentioned how being in a beautiful, mountain setting with colleagues for a day can literally change team dynamics?
In today's world, leaders and organizations face multiple challenges and can no longer rely upon traditional formulas to be successful. Our interactive experiential leadership and team development programs are designed to strengthen the social and emotional intelligence needed for leaders and team members to be more effective, self-aware, and accountable. We offer workshops, retreats, and private sessions that utilize hands-on experience with horses to create organizational success.
"The InBalance Ranch is a great environment to learn about yourself. A peaceful place to be while having the opportunity to open up a treasure box full of insights."

~ Molly (Human Resources)
Emotional Intelligence is the foundation of great leadership and successful business. Unlike other experiential programs, such as ropes courses and survival adventures, we provide opportunities that go beyond overcoming fear and bonding under stress to engage participants in deep levels of awareness and communication to create lasting results.
Stand InBalance can help your organization: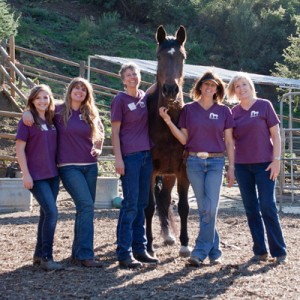 Increase Results and Efficiency
Minimize Employee Turnover
Reduce Miscommunication
Propel Profitability
Workplace Assessments
In conjunction with our off-site retreats, we offer assessments that set us apart from your average corporate retreat experience. We assess team strengths and dysfunctions, and facilitate 360° feedback. Learn about the motives underlying your team members' behavior under stress and stop getting derailed by conflict.
Click here for more information on our leadership development programs, and team assessment using the Strengths Deployment Inventory.
What does our organization need to know?
What types of retreats do you offer?
After an initial consultation to assess your needs, our professionals will recommend one of the following options, or a customized program, to meet your organizations greatest challenges:
Group Strengths: Leveraging the Individual
Creativity: From Stuck to Out of the Box
Maximize Productivity, Minimize Distractions
From Tension to Collaboration
Influence and Impact through Inspired Leadership
What is Equine Assisted Learning (EAL)?
EAL is a cutting-edge experiential form of learning that uses the unique abilities of horses and their natural herd dynamics to take leaders and teams to the next level.
This is not horseback riding and the focus is not on developing horsemanship skills.

Participants interact with horses through structured activities.

No horse experience is necessary and those with horse experience are equally challenged because "this is not about the horse."
Experiential, goal-oriented activities are utilized to target beliefs, habits, and behavioral responses.

These are examined during activity processing so participants can gain greater personal insight about themselves and how they interact as a group to accomplish goals.
During workshops/retreats, an environment of non-judgment and self-acceptance is created.

There's no right or wrong way of doing the activities.

Rather, it is about the experience and each person / team accomplishing goals in their own way.

This is the pillar of our program.
Our facilitators help participants bring this direct experience, immediate feedback, and metaphorical learning together to maximize change and learning.
Why use horses for human learning and development?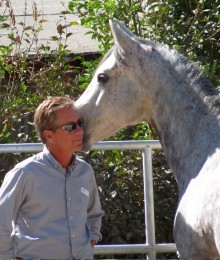 As prey animals, equines instinctively have a keen awareness of and sensitivity to their surroundings. Their heightened recognition of, and ability to interpret, the body language and emotions of other beings not only makes them successful herd animals but enables them to be powerful messengers that mirror back their direct experience of us humans. And, they do so without the judgment or biases typically associated with human beings. They can't be bullied into partnership and they are never too polite to tell you how they really feel! They give immediate, honest feedback about our interpersonal skills and how clear, confident, aware, congruent, and trustworthy we are.
Just like us, they have complex social dynamics that utilize teamwork, cooperation, and loyalty. Horses show participants what effective leadership and teamwork is and what it is not. The interaction with horses and the direct and honest feedback they provide moves participants outside of their comfort zone and reduces defensiveness so that new learning and change can occur.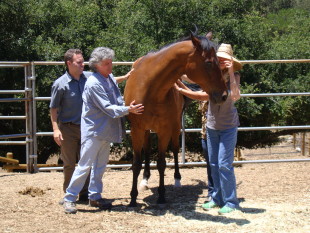 What happens at a workshop/retreat?
A typical workshop or retreat involves ground activities with the horses that provide opportunities for executive leadership development and/or team building. Our professionals help participants explore their interactions with the horses and the metaphors that emerge for application in the workplace.
Do we need to know about horses?
No, all work with participants is done on the ground – no riding – with a focus on human skills not horse skills. Our program is not about horsemanship. It's about exploring partnership, communication, and creating results; while having fun along the way.
Do you offer customized retreats?
Absolutely, we work with you to identify your needs and challenges. After an initial consultation, our professionals will design a retreat to match your goals.
Download our Team Development and Leadership Retreats brochure HERE
Contact our Executive Director to learn how you can
transform your organization now

TOP

Please call 818.714.1740 for more information
or to schedule a consultation.
Stand InBalance is located in the beautiful
Santa Monica Mountains just 45 minutes west of Los Angeles