At Stand InBalance, we help you create the change you want. Our Equine Interactive Programs offer an experiential, short-term approach that goes beyond the traditional to help restore balance in people's lives.
"When we Stand InBalance, we have the awareness, resilience, and flexibility needed to make the world a better place — one person, couple, family, and business at a time." ~ Dr. Val,  Stand InBalance
Horses, due to their unique animal nature, act as mirrors for our inner selves. They provide opportunities for us to develop greater self-awareness, increased self-confidence, and improved relationships – both personally and professionally.
Stand InBalance is not about riding or horsemanship, it's about gaining the tools to face life's challenges from a place of calm, inner strength.  Working with our professional staff and the horses can help you discover a solution-focused approach to current problems, practice resilience, and live your inner strength, personal power, and integrity.
Our programs can help you: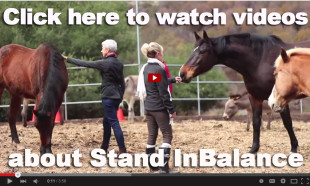 Stop saying yes when you really mean no
Have more fulfilling and happier relationships
Enhance team synergy and effectiveness
Do the things you've been wanting to do instead of just talking about them
Be the leader you've always wanted to be
Boost your results
Trust yourself and others
Let go of frustration and resentment
Build your confidence
Get playfulness and joy back in your life
All of our programs include an interactive, on-the-ground Equine Experience at the beautiful and private InBalance Ranch, located in the Santa Monica Mountains. No prior horse experience is necessary.


Please call 818.714.1740 for more information or to schedule a consultation.
Stand InBalance is located in the beautiful Santa Monica Mountains just 45 minutes west of Los Angeles