Friday, April 7th, 2017
8:30 am – 4:00 pm
6 CE Credits,  $265 (Healthy Lunch Included)
In clinical practice, our capacity for embodied mindfulness is the key to awareness of countertransference – which can either help propel the work forward or create an impasse.  By honing your ability to read and receive patient's somatic experience you can increase awareness of the therapeutic dance and your ability to effectively utilize countertransference. 
This small group workshop will combine clinical learning and somatic awareness with the intuitive nature of horses. You will have an opportunity to engage the reflective ability of equines and gain tools for the office.
This program is designed to help you:
Improve your ability to identify and utilize your countertransference.
Enhance your clinical effectiveness – gain tools to maintain balance and attunement with difficult clients.
Learn ways to use embodied mindfulness in clinical practice.
Participate in experiential exercises and discover how working with horses can quickly illuminate dynamics and provide immediate opportunities for growth and change.
Experience a day of learning and rejuvenation in a natural and healing setting.
This is a unique, outdoor retreat for mental health professionals utilizing experiential (no riding) interaction with horses.  Come and experience how embodied mindfulness can move ourselves, clients, and the work, forward.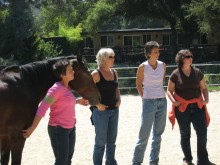 The workshop leader, Vallerie E. Coleman, Psy.D, Ph.D. is a clinical psychologist and psychoanalyst. She is the founder and Clinical Director of Stand InBalance, and also maintains private practices in Westlake Village and Santa Monica, CA. Dr. Coleman specializes in helping individuals and couples improve their lives and relationships through psychoanalytic psychotherapy and equine assisted psychotherapy. Her work is based in a combination of object relations theory, attachment theory, and sensorimotor psychotherapy. She has been on faculty at Loyola Marymount University, Anitioch University, and the Newport Psychoanalytic Institute.
Additional Staff includes: Equine Specialist Terry Carroll and Natasha Filippides, MA
This retreat offers 6 Hours of CE Credit:
Psychologists: (Stand) InBalance is approved by the American Psychological Association to sponsor continuing education for psychologists. (Stand) InBalance maintains responsibility for this program and its content. This program and its instructors do not have any commercial support or relationship that could reasonably be construed as a conflict of interest.
MFTs and LCSWs: this course meets the requirements for 6 hours of continuing education as required by America Psychological Association.
More Information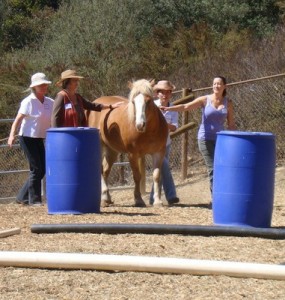 All activities are done on the ground – no riding.
Our program is not about horsemanship. It's about exploring partnership, communication, authenticity, and having fun along the way.

TOP

Please call 818.714.1740 for more information
or to schedule a consultation.
Stand InBalance is located in the beautiful
Santa Monica Mountains just 45 minutes west of Los Angeles