Watch short video testimonials from some of our clients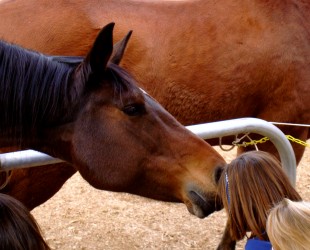 "I learned to be open to whatever is being presented and to participate. No need to know much about handling horses, just be open to trying new things and learn awareness of self & others. Although, there may be a goal in mind, take caution and think about the process before executing. Keep in mind who you are working with and be mindful & patient. The hands on experience with the horses really brought out the truth in my feelings."

~ Melonie (Marlborough School)

""This was a very eye-opening and insightful experience. I learned how to work as a team, accept the help I need and set boundaries.""

~ Camille (Student)

"The 2day weekend retreat was incredible! Definitely worth doing if you're ready and open to confronting deeper issues. It was one of the richest and most fruitful experiences I've ever had!"

~ Jennie, Doctor

"I would encourage anyone to come and find themselves, at the Stand InBalance Ranch."

~ Veronica, Therapist
First | Previous 10 | 1 2
Leadership and Organizational Successes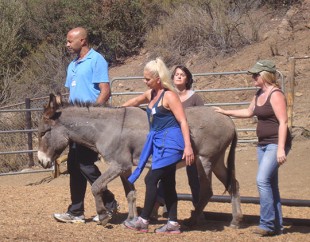 "This workshop isn't what you think it is – it's an opportunity to acknowledge your better self, regardless of the outcome"

~ Debbie (V.P.)

"This workshop not only helps you face and overcome your own internal obstacles but it also teaches you how your reactions affect a group. Thank you so much for your guidance and support!"

~ Susan (Territory Manager)

"I received powerful and unexpected lessons from the workshop. I learned I can lean in to my leadership gifts and use my energies wisely and that it's not a performance, it's a process."

~ Stephanie (Adult Educator)

"I came to Stand InBalance for more insight into myself and for tools to change self-defeating behaviors and beliefs. The workshop was insightful and life changing. I allowed myself to feel what I am feeling and learned to release tension."

~ Cindy (Program Coordinator)

""I was surprised at how the horses could teach us about our work place behaviors and attitudes. From the experiences at Stand InBalance I have built confidence in myself and learned the power of trust. The feedback from the horses was amazing and I learned how I need to stay focused and leverage my strengths to increase my sales. I'm excited to take what I learned back to work!"

~ Dana (Sales Representative)
First | Previous 10 | 1 2
From Couples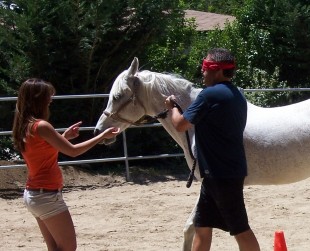 From Therapists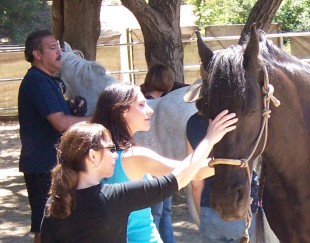 Workshops, Retreats, Groups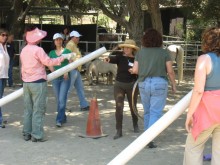 "I came to Stand InBalance because I noticed my own people pleasing traits and I was hoping to get some awareness on how I can identify and prevent my usual people pleasing habits. Debriefing and reflecting on my experience before, during and after horse time taught me that I'm not a mean, unloving person just because I speak my truth, set boundaries & stand my ground! I recommend anyone to attend! Experiencing a live version of this work is way more effective than just talking about it."

~ Kama (teacher)

""I learned that connection is key between family members – maintaining integrity and communication. Equine Therapy allows a person to see themselves through non-judgmental eyes.""

~ Antony (Teacher)

"This workshop was very revealing, it helped me to realize that I am capable and that I shouldn't let obstacles interfere with my forward movement."

~ Cynthia (Social Worker)

"This workshop gave me an opportunity to bond with my daughter in an environment she loves. By working as a family unit, we were able to communicate with each other in a very soothing, non-threatening place."

~ Mytra (Teacher)

""I was drawn to the women's retreat because I had a desire to work with horses and experience equine assisted growth – I found that the facilitators were knowledgeable and compassionate. It was great!""

~ Dalia, Marriage Family Therapist

""This was a terrific retreat! I would encourage others not to set any expectations about the experience and to be open & trust the process. After this retreat, I feel I can apply the patience, congruence, mindfulness and setting of intentions & boundaries that I learned over the weekend towards welcoming healthy connections and relationships in my life.""

~ Jodi, psychotherapist.
First | Previous 10 | 1 2
Watch short video testimonials from some of our clients
Individual or Group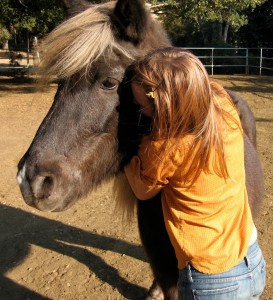 TOP

Please call 818.714.1740 for more information
or to schedule a consultation.
Stand InBalance is located in the beautiful
Santa Monica Mountains just 45 minutes west of Los Angeles