Partnering With You To Accelerate Your Clients' Progress
Our Equine Assisted Healing® (EAH) program for mental health and substance abuse recovery is specifically designed to help clients integrate the tools they are learning in treatment.  We provide adjunctive groups, as well as customized sessions for individuals, couples and families.  Team building retreats are also available.
Stand InBalance professionals design activities that parallel challenges in life and recovery.  Our herd of horses and donkeys provide participants with immediate feedback about what is working for them and what is not, while our skilled treatment team helps them gain insight and embody behavioral change.  No horse experience is necessary.  We work with you and encourage your clients to take their EAH® experience back to their primary treatment so they can maximize it's application in life and recovery.
"It's one thing to know I have the tools I need for change— it's another to actually put them into use!"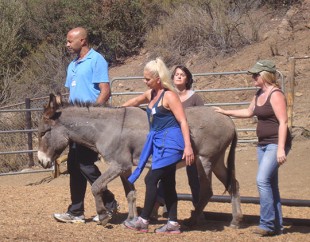 Because horses are completely authentic, congruent, and non-judgmental with what they experience, clients are often able to quickly develop a trusting connection with them — increasing their own ability to learn, grow and change.  The feedback from the horses combined with intervention from our psychotherapists helps clients distinguish between healthy and harmful behaviors, and learn positive ways to express and assert themselves.
Psychotherapeutic interaction with horses can help your clients:
Reduce Reactivity and let go of Unhealthy and Ineffective Behaviors
Embrace Recovery
Gain Authentic Confidence
Identify Conscious and Unconscious Patterns that Hold Them Back
Learn to Set Clear and Effective Boundaries
Develop Embodied Mindfulness and Reduce Stress & Anxiety
Boost Focus, Intention and Commitment
Build Patience
Have Fun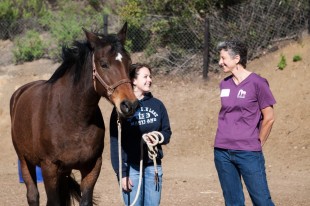 Horses areexcellent teachers and healers.  They are non-judgmental beings that are constantly aware of their surroundings and they give us immediate, unbiased feedback to help us let go of old patterns, and engage in healthy, new action.  Research has found that human-animal interaction can not only improve attention, mood, and interpersonal relations, it can also decrease stress, lower blood pressure, improve immune functioning and help with pain management.
Stand InBalance provides customized group, individual and family sessions, as well as retreats.  Our unparalleled, multi-disciplinary team is comprised of mental health, substance abuse, and equine specialists who are passionate about promoting emotional growth and behavioral change. All exercises are typically conducted on the ground and involve interacting with horses through a variety of activities, such as grooming, leading, and obstacle courses.  Our program is not about horsemanship, it's about psychotherapy and recovery.
For more information about how our groups or other services can compliment your program, please contact:
Vallerie E. Coleman, Ph.D. Founder & Director
818.714-1740

TOP

Please call 818.714.1740 for more information
or to schedule a consultation.
Stand InBalance is located in the beautiful
Santa Monica Mountains just 45 minutes west of Los Angeles