Are you ready to step-up your leadership?
What makes an effective leader?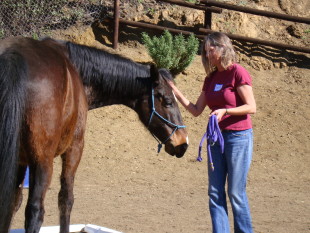 In order to successfully lead others, we must first be able to effectively lead ourselves. Remarkable leaders are able to recognize and modulate their emotional states while remaining open, responsive, and aware of others.  They are inspirational, inclusive, credible, compelling and authentic.  Powerful leaders effectively influence others through respect and trust.
Advanced leadership is Embodied Leadership and develops through cultivating a style that is clear, congruent, confident, and connected to self and others. It is a place from which we can "Stand In Balance" and respond to stressful circumstances with wisdom, flexibility, creativity and compassion.
How horses teach leaders
Our experiential learning programs are designed to strengthen the social and emotional intelligence that leaders of all types need to be more effective and self-aware.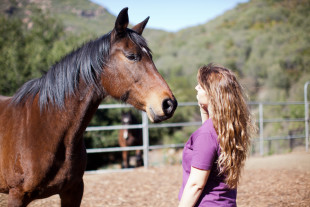 Horses are excellent teachers of embodied leadership.  Instinctively, they are powerful messengers that mirror back their direct experience of humans, without judgment or bias.  Simply put, the learning is in the doing.  Horses look for fully-integrated leadership and give direct, honest and immediate feedback about what effective leadership is, and what it is not.  Like humans, equines want clear and intentional communication.
Our carefully devised equine activities provide an opportunity for participants to experience and see their challenges from a new perspective, illuminating areas for growth and gaining tools to create change. Through discussion, our facilitators help participants bring this direct experience, immediate feedback, and metaphorical learning together to create change in the workplace.
Our Embodied Leadership Development Programs facilitate:
More skillful verbal and non-verbal communication
Greater awareness of subtle cues in yourself and others
Improved ability to influence and impact others
Building relationships through trust
Leadership agility

Participants have an opportunity to:
Maximize positive impact and influence
Cultivate a strong, inspiring presence
Enhance relational skills
Build confidence
Promote trust and commitment
Boost creativity
Develop effective communication and listening skills
What if I don't ride
At Stand InBalance, all exercises are conducted on the ground (no riding) and no prior horse experience is necessary. While changes can occur in just one Equine Assisted Learning session, cumulative experiences maximize growth and learning – leading to exponential results.

TOP

Please call 818.714.1740 for more information
or to schedule a consultation.
Stand InBalance is located in the beautiful
Santa Monica Mountains just 45 minutes west of Los Angeles