Stand InBalance workshops and retreats provide an opportunity to engage in activities designed to help you connect with your inner wisdom and create the change you crave.
Understanding the patterns that keep you stuck is only the beginning. Our approach gives you the time and place to discover solutions and can help you:
Connect with strengths and create change faster than you ever imagined.
Apply creative thinking and problem solving techniques.
Successfully approach relationships.
Gain insight into yourself while interacting with others.
Feel heard in your relationships.
Gain profound personal power and confidence.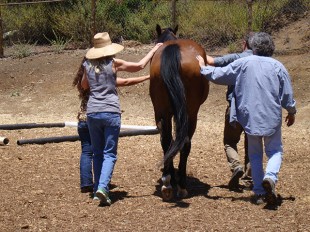 Our small group experiences offer a warm, supportive setting where you can interact with like-minded people while gaining profound personal growth.
Find out about our upcoming workshops and retreats here.
We also offer private full or multi-day retreats for individuals, couples, and groups – contact us for more information.
"I came to Stand InBalance because I noticed my own people pleasing traits and I was hoping to get some awareness on how I can identify and prevent my usual people pleasing habits. Debriefing and reflecting on my experience before, during and after horse time taught me that I'm not a mean, unloving person just because I speak my truth, set boundaries & stand my ground! I recommend anyone to attend! Experiencing a live version of this work is way more effective than just talking about it."

~ Kama (teacher)

TOP

Please call 818.714.1740 for more information
or to schedule a consultation.
Stand InBalance is located in the beautiful
Santa Monica Mountains just 45 minutes west of Los Angeles