Our professionals offer depth oriented, action focused therapy for individuals, couples, and families of all ages. Equine Assisted Healing® can help with relationship issues, depression, anxiety, anger management, trauma and recovery.
The horses' direct and non-judgmental feedback allows clients to identify unproductive patterns, connect with strengths, and create change in the moment. Because of its intensity and effectiveness, this work is considered a short-term modality. If you are currently in therapy, we work with your therapist to help you integrate your growth and learning and build upon the skills you are developing.
After an initial consultation, the Stand InBalance team will recommend a format designed to meet your needs. In addition to our typical weekly sessions, we also offer single and multi-day intensives to accelerate your growth and healing.
For Individuals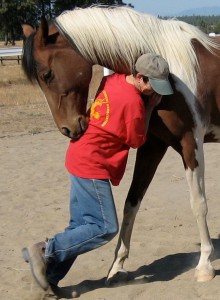 Life is a challenge, and many people find themselves struggling with self-confidence, anxiety, depression, and other blocks that interfere with having the life they want. Our powerful, compassionate, and effective model of Equine Assisted Psychotherapy can help you:
Gain profound personal power and confidence
Stop giving up what YOU want to make others happy
Be heard – get your partner, children, boss…to listen to you the first time
Reconnect with the you that has gotten lost
Heal from past trauma
Improve your relationships
"By spending time with the horses, and having the Stand InBalance team help reflect the dynamic taking place I learned a great deal about myself. I felt more connected and strong in myself and in my relationship with others. Most importantly I learned that I am OK and good enough the way I am. These lessons exceeded my expectations of what the experience would be like, and I will apply them in my life."

~ April (Marriage Family Therapy Intern)
Parents – If your child is struggling with anxiety, depression, ADD/ADHD, low self-esteem, or relationship challenges we can help. Interaction with horses decreases resistance and enables children and teens to address challenges that are often hard to talk about. Our Equine Assisted Therapy program offers coping tools and empowerment in a fun environment where they can learn and grow.
Please contact us about how we can help your child.
Help for Trauma Survivors
Help for Addiction Recovery
For Couples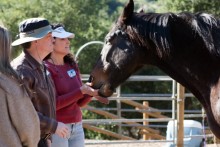 Although relationships are complicated and challenging, they can also be the most rewarding and fulfilling aspect of one's life. Our private sessions offer couples an opportunity to change unproductive and/or destructive patterns and re-connect with the love and passion that first brought them together. We can help you:
Gain skills to stop destructive patterns
Stop building up frustration and resentment
Feel supported and valued by each other
Develop clear and effective communication
Improve your parenting skills
Deepen intimacy and rejuvenate your relationship
Have more fun with each other and better sex
"The couple's retreat was my wife's idea and I was not sure about what the day was going to be like. The hands on horse activities were an excellent experience for us, and we learned how important teamwork is in a relationship. I would recommend this retreat to couples with or without serious problems."

~ Jimmy (Broadcaster)
For Families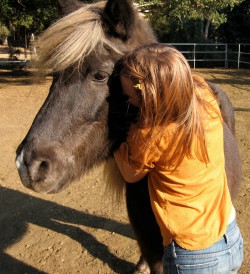 Families today face unique challenges and stressors. We have found that family sessions provide new experiences that can quickly help you see your strengths and identify what really needs to shift. Our professionals help you make use of the immediate, non-judgmental feedback from the horses so that your family can create change in the arena and translate it into change at home.
Interacting with horses can help your family:
Create an atmosphere at home that you want to be in
Reduce the stress of disciplinary problems
Learn the secret to having your child listen to you the first time
Eliminate destructive behaviors
Develop new ways of connecting and create stronger bonds

TOP

Please call 818.714.1740 for more information
or to schedule a consultation.
Stand InBalance is located in the beautiful
Santa Monica Mountains just 45 minutes west of Los Angeles